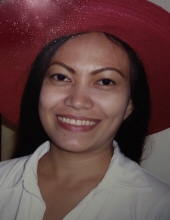 Obituary for Cyril Sanders
Lincoln- Cyril Sanders, 44, passed away at 12:14 a.m. on November 19, 2019 at her home surrounded by her family.
Cyril was born on April 5, 1975 in the Philippines; daughter of Ables and Lucila (Porlas) Armenton. She married Frank R. Sanders Jr. on February 1, 2004. He survives her.
Also surviving are her children: Jenifer Porlas, Frank Sanders, and Spencer Sanders; one sister Lorna Patterson and several nieces and nephews. She was preceded in death by her parents.
Cyril was a member of Holy Family Catholic Church in Lincoln, IL.
Graveside services for Cyril will be 1:00 p.m. on Friday November 22, 2019 at Camp Butler National Cemetery in Springfield, IL with Wendell Lowery officiating. Visitation will be from 11:00 a.m.- 12:00 Noon at Fricke-Calvert-Schrader Funeral Home in Lincoln, IL prior to the graveside service. Memorial may be made in Cyril's name to Holy Family Catholic Church.