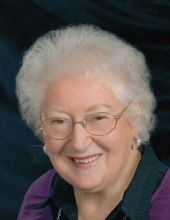 Obituary for Doris (Glaze) Arduini
Doris (Glaze) Arduini, 90, of Pontiac, IL passed away surrounded by her loved-ones on 11/29/2019.

Transitions Hospice provided such care and compassion to Doris and her family. They really went above and beyond in the eyes of her family. We are so thankful for Lynn, Kiley, Emily, Mark and so many others for the love and support they provided with such ease, and did not leave her side when she and her family needed them the most.

Her funeral will be held Friday December 6, 2019 at 11:00AM at St. Mary's Catholic Church with Father Adam Cesarek officiating. Burial will follow at St. Mary's Catholic Cemetery. A visitation will be held for one hour prior to the mass at St. Mary's Catholic Church and the rosary will be recited at 9:30AM at the church. Memorials in Doris's name may be made to St. Mary's Church. Arrangements are made by Calvert & Martin Funeral Home, Pontiac, IL.

Doris was born in Walnut, IL to LeRoy and Anna Glaze on July 24, 1929. She married Ralph Arduini of Rock Falls/Sterling on June 2, 1951. They moved to Pontiac, IL in 1968 and were very active in the community. Doris was a mother before anything, but also a hairdresser, worked at the Livingston County Court House, and could do just about anything. She was known for her cooking and baking and in a home where you would be fed well and anyone was welcome. She played the piano and accordion, starting young playing with her sisters and dad in a family band, was very crafty and artistic in so many ways from painting, sewing, crocheting, and so much more. She was a champion bowler and loved to golf. Golfing and music were a passion she shared with her sisters and had a life filled with laughter.

Doris had an amazing and blessed quality to only see and remember the best in everyone. She was a joy to be around and spread that joy on to everyone. She always put others before herself and will be greatly missed! She was a devout Catholic with extreme faith.

Doris was preceded in death and is surely greeted in heaven by her parents, her husband, Ralph, son, John Tyler Arduini, 4 sisters and a very special dog, Bella. She is survived by her beloved sister who is also her best friend, Elinor Wallace of Gainesville, FL, 5 children, Mike (Terri) Arduini of Pontiac, Lanette Tooley of Pontiac, Joe (Stephanie) Arduini of Pontiac, Tracy Arduini of Pontiac, and Andrea Arduini of Bloomington, 8 grandchildren Frank (Monica), Brandi, Jacque, Jason, Jessica (Joe), Tad, Megan and Zee; 13 great-grandchildren, Arial, Austin, Ann and Kayla; Shawn, Larissa, Antonio, and Brandon; Ryan and Brandon; Travis, Tatum and Tenley; and 5 great-great grandchildren; Brooklynn, Ariaah, Zenndaya, Armani and Amier.

Doris had macular degeneration which had the greatest impact on her independence and the only ailment that frustrated her. If not for the loss of her vision, she would have been unstoppable. Please pray for anyone who suffers from this impairment and for a cure. This is what she prayed for as well. The family asks that we all be a little kinder and giving to others in memory of their loving sister, mother and grandmother, stop and listen to music while tapping your fingers and toes, love one-another and sometimes you need to eat your dessert first.
Previous Events
Visitation
St. Mary's Catholic Church
119 East Howard Street
Pontiac, IL 61764
Service
St. Mary's Catholic Church
119 East Howard Street
Pontiac, IL 61764