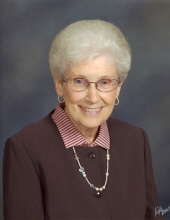 Obituary for Elizabeth V. Locke
Elizabeth V. Locke, 96, of Normal, passed away at 11:32 pm Monday, November 25, 2019 at her residence.

A memorial service will be held at 11:00 am Wednesday, December 4th at Normal First United Methodist Church. Rev. Kathy King-Nobles will officiate. Visitation will be from 5:00 – 7:00 pm Tuesday, December 3 at Calvert & Metzler Memorial Home, Bloomington.

In lieu of flowers, the family suggests that memorials be made to either Normal First United Methodist Church or OSF Hospice.

Elizabeth was born Feb. 2, 1923, in Vernon, Illinois, the daughter of Burney and Radah (Peddicord) Bryan. She married Wm. Donald Locke on July 19, 1944. He preceded her in death on February 3, 2008.

She is survived by one son: Greg (Melissa) Locke and daughter-in-law Kristi Locke. Five grandchildren: Eric (Regena) Locke, Greg Locke Jr., Maggie (Eric) Seim, Billy (Abbey) Locke, and Nell (D.J.) Geiger. Seven great-granddaughters: Camille, Tinley, Madison, Adell, Braelynn, Fiona and Emersyn.

She was preceded in death by her parents, her husband, and one son, David Locke.

Elizabeth was a graduate of Normal Community High School. She attended Illinois State Normal University and was a member of Beta Sigma Phi sorority. While attending ISNU, she worked on the State Farm night crew. She then joined State Farm full-time and worked in the personnel department. She later worked for the town of Normal, becoming the first secretary of the Normal Parks and Recreation Department. Elizabeth was a life-long member of Normal First United Methodist Church.

Her family, faith and friends were the most important parts of her life. She instilled in her sons the values she held dear: kindness, integrity, courtesy and a solid work ethic. Elizabeth was a "whatever the kids want" grandmother, an active, involved church member and a loyal friend.

She left a lasting impression on all who knew her.