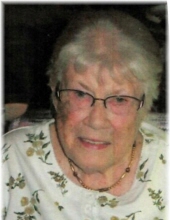 Obituary for Lois I. Lindholm
Lois I. Lindholm, 96, of Towanda, IL passed away at 9:05 a.m. Thursday, November 21, 2019 at her home after an illness.
Graveside services will be 1 p.m. Tuesday, November 26, 2019 at Mount Hope Cemetery, Sibley, IL with Rev. Jason Collins officiating. Visitation will be 4 to 7 p.m. Monday at Calvert-Johnson & Musselman Memorial Home, Lexington. Memorials may be made to the Illinois State Foundation, Normal for student nurse scholarships, in the name of Erma Mae Borchers or Vivian O. Stockdale.
Lois was born September 25, 1923 in rural Cropsey, IL the daughter of James William and Esther Ward Liddle. She married Roy James Lindholm on December 25, 1942 at the Sibley United Methodist Church. He died May 5, 2013.
She is survived by her children Bruce Lindholm of Towanda, and Joyce Wright of Bloomington; a brother Glenn Liddle; eight grandchildren, ten great grandchildren, and four great great grandchildren; and several nieces and nephews.
She was preceded in death by her parents, two sons Jim and Terry, a sister Erma, a brother Lyle, and a great grandson Corey Vance.
Lois worked as a payroll clerk at Illinois State University, Normal for 23 years. She enjoyed many years of volunteering for the Arthritis Foundation, RSVP, and Advocate BroMenn Medical Center volunteer program. She was a member of the Arthritis Foundation, ISU Annuitants Association and DAR.