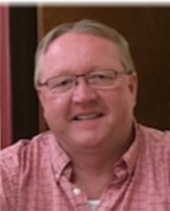 Obituary for Ricky Ray Van Hooser
Ricky Ray Van Hooser, 59, of Toluca, IL passed away at 5 p.m. Thursday, June 27, 2019 at his home.

Funeral services will be 11 a.m. Monday at Crow Meadow Presbyterian Church, LaRose, Il with Bob Fecht officiating. Cremation rites will follow, and inurnment will be held at a later date in St. Ann's Cemetery, Toluca. Visitation will be 2 to 5 p.m. Sunday at Calvert-Johnson & Froelich Memorial Home, Toluca and one hour prior to the service at the church on Monday. Memorials may be made to the ARK in Lacon.

Ricky was born June 16, 1960 in Spring Valley, IL the son of Norman and Marjorie Zilm Van Hooser. He married Donna Lowery on November 23, 1991 in Las Vegas, NV. She survives along with two children Clint Rossman of Toluca; one daughter Crystal Rossman of Bloomington; his step-father Edward "Sonny' Rossi of Toluca; three sisters Norma (Lenny) North and Vicky (Todd) Rankin both of Toluca and Carrie (Tommy) Anderson of Shirley; and his nieces and nephews. Anthony and Lukas Rankin, John and Michael Dollinger, and Mackenzie Anderson


He was preceded in death by his parents and one brother Scott.

Ricky was a member of Crow Meadow Presbyterian Church, LaRose, IL where he served as an Elder. He was a city alderman in Toluca and a member of the ASPCA, Peru TBM Avenger's and the Reunion Salute to Veterans. He graduated from Toluca High School in 1978. He worked at Ajinomoto North American Foods for 35 years starting in 1984. He was a loving husband, father, and brother who enjoyed helping others and loved animals.