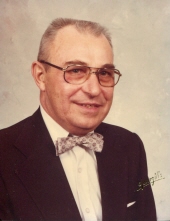 Obituary for Charles H. Casperson
Charles H. Casperson, 98 of Bloomington, passed away at 4:33 am Saturday November 9, 2019 at Heritage Health in Bloomington.

A memorial service will be at 11:00 am Friday November 15th at St. Matthews Episcopal Church, Bloomington with Military Rites conducted by the Bloomington/Normal American Legion Honor Guard. Fr. David Halt will officiate. Visitation will be Thursday from 5:00 – 7:00 pm at Calvert & Metzler Memorial Home. A Masonic service will be at 6:45 pm Thursday at the Funeral Home.

Charlie was born June 18, 1921 in New Athens, Illinois, the son of Philip & Ruth (Kemp) Casperson. He married Charlotte Schriner Feb. 1, 1953 in New Athens, Illinois. She survives.
Also surviving are 2 Daughters: Cynthia (Don) Albee & Carolyn Simpson; 9 grandchildren & 12 great-grandchildren. He was preceded in death by his parents, 1 son: Chris Casperson, 2 brothers & 1 sister, 1 son-in-law: Jim Simpson; and 1 daughter-in-law: Nancy Casperson.

Charlie served in the Navy and was stationed in Guadalcanal during WW2. Charlie was employed by IAA for 33 years, retiring in 1986.

During his life he was very active in many organizations. He was a 73 year member of Wade Barney Lodge #512 where he was a Past Master and also served as Lodge Secretary. Through the years Charlie participated in leading many Masonic Funerals for his departed brothers.

Charlie was a member of Bloomington Scottish Rite and a 72 year member of the Shrine Club. He received the Meritorious Service Award in 1991 from the Consistory.
He was a member and Past Commander of the Demolay Commandery #24. Charlie received the Knight York Cross of Honor award in 1983. He was also a member of the Red Cross of Constantine. He was also involved in Eastern Star and was a member of Felicity Chapter #387 for 67 years where he was a Past Worthy Patron.

Charlie was also very involved in his church community at St. Matthew's Church where he became a member in 1962. Over the years he served as Parish Warden, Rector's Warden, Treasurer, Vestry member, Lay Reader, Sunday School Superintendent and teacher.

In his retirement he joined the cast of the American Passion Play and enjoyed many years filling the roles of Joseph of Arimathea and Nicodemus. Charlie was a very loving and supportive husband, dad, grandpa, and great-grandpa. He became "Poppy" to all his grandchildren. We will miss him greatly.

Memorials may be made to the Community Cancer Center, Easter Seals, St. Matthew's Church or a charity of the donor's choice.